New Year's Specials We will sell at the lowest price $24.99, the price will restore to the original price of $49.98 after Jan15.
6 Pieces, Over 12 Patterns, Making Gorgeous Quilting Has Never Been Easier LIKE THIS👇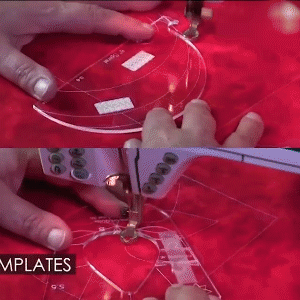 Gorgeous & Easy Quilting: Flowers, circles, stars, hearts and many other beautiful symmetrical patterns can be created with these templates. Just use and develop your creativity to explore more quilting and stitching patterns, these templates will make everything easier!
Premium Material: Made of durable premium acrylic, chosen for its strength, transparency and sustainability. These templates have an excellent transparency like a piece of smooth and clear crystal for easy viewing. Smooth and round edge design does no harm to the fabric. It feels soft, but maintains a good grip on the fabric.
Wide Applications: No matter you're a pro or new beginner in quilting or sewing, these templates are suitable for you. They have been widely used for professional tailors, apprentices, or DIY embroidery hobbyists and etc..
SPECIFICATIONS:
4" Arc

Arched lines are at 1/4" segments; other line angles on the template for corners and matching seam lines
Template measures: 1-3/4" x 3-1/2"

Clamshell

Finished large shell measures 1-1/2"H x 2-9/16"W
Finished small shell measures 1/2"H x 9/16"W
Marked lines are at 1/4" segments
Template measures: 3" (widest width) x 7"(length)

6" Spiral

Start in the center using the Ruler Foot as the rotation point
Markings to make arc sizes: 1-1/2"H, 2-1/2"H, 3"H, and 3-7/16"H
Template measures: 3-3/8" (highest point) x 5-15/16" (length)

2" Inside Circle

Four alignment lines are from corner to corner and through the middle of the ruler for centering the circle
Ruler: 4" x 4"
Center opening: 2-7/16" diameter

3-1/2" Spin E-Fex

Ruler: 4" x 4-1/2"
Center opening: 1/4" (short end) x 1-1/2" (widest end) x 2-1/4"

23 alignment lines at various angles on the ruler to create stunning designs

5-1/2" Spinning Wheel

Nine alignment lines at various angles on the ruler to create stunning designs
Ruler: 2-3/4" (narrow end) x 4-1/2"(widest end) x 5"
Teardrop center opening: 1/4" (short end) x 2" (widest end) x 2-5/8"
If you do not know what shank your machine is, all you need to do is lower your foot and then measure the height of the center of the hole for the screw from the needle plate.

Note: Ruler foot isn't included with this Free motion template set
Note: Bernina machines require a shank adapter.
PACKAGE INCLUSION:
1x Machine Quilting Ruler Set(6 Pieces)